The Different Types of Flat Roof Windows
Are you trying to let more light into your property? If you have a flat roof or one with a pitch up to 15 degrees then flat roof windows will be ideal. Available in a variety of different sizes, roof windows can be selected and configured to suit your individual requirements.
Keep reading to find out the benefits of letting more light into your home, as well as the different types of flat roof windows available at Yard Direct.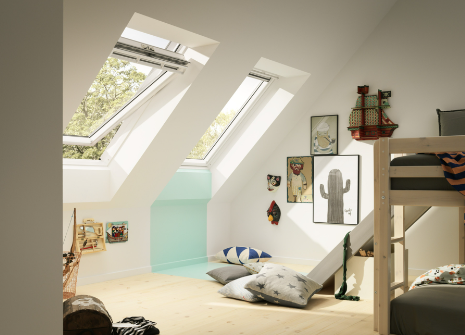 What are the benefits of light?
Opening up your home to more light can do more than just brighten up the space. As well as having aesthetic benefits, adding more light to your home can also have a positive impact on your mental and physical health. Here are some of the benefits that flat roof windows can add to your home.
Efficiency - Letting natural light into your home can do more than you think, reducing the need to use internal lights will save a lot of energy and money in the long run. The cost of the windows and installation might seem daunting to start with, but cutting down on your electricity bills might sound more appealing.
Increases Productivity - Natural lighting can improve your mood and stimulate productivity, improving your mindset whilst working. This is going to be great if like most of the country have found a new way of working, whether you're fully remote or work hybrid.
Stress Levels & Anxiety - If you, like many others, suffer from seasonal affective disorder then natural lighting is something that can help combat this. Spending more of your day exposed to natural lighting can do wonders for stress management and anxiety.
Increases Home Value - You might not be adding new windows to your home to increase its value, but it's important to know the impact it can have on your home when you do come to sell. Windows that let in natural light can make rooms in your home feel so much bigger, and are considered the best home improvement that you can do.
Now that you know the benefits of natural lighting in your home and how flat roof windows can give you this, here are some of the different flat roof windows we have available.
Velux Flat Roof
Velux offers a complete package for your home, offering different types of flat roof windows includingVelux Curved Glass,Velux Flat Glass,Velux Domes andVelux Flat Roof Access. As ever, Velux has all of the answers to your needs, including a model that also has an emergency exit. The key features of this range of flat roof windows include:
●Integral sealed double-glazed unit combined with protective polycarbonate or glass cover
●Minimal heat loss while your room is bathed in natural light
●Fixed or INTEGRA Electric ventilated options
●Rain sensor will close the electric window if you are out and it starts to rain
●10-year guarantee, with a 3-year warranty on accessories such as blinds, electrical products and accessories
Mardome Flat Roof
The Mardome Rooflights range is a competitively priced solution for flat roofs that come with a 20-year guarantee. Available in 10 different sizes, with multiple coloured polycarbonate dome options and excellent U-value.
Our Mardome flat roof domes can be selected and configured to suit your individual requirements, whether you need an opening or fixed roof window, coloured dome options with energy-saving features, kerb fixing options or powered opening alternatives.
View our range of Mardome Hi-Lights &Mardome Reflex here today.
Fakro Flat Roof Windows
Fakro roof windows are a great way to bring light, luxury and safety into your home. Fakro flat roof windows help you open your home to more light and space, whilst saving money on energy bills too.
Fakro offersElectric Flat Roof Windows,Fixed Flat Roof Windows &Manual Flat Roof Windows to cater for all customer's needs.
Flat Glass Windows
The flat glass rooflight windows offer a more modern look that the traditional polycarbonate dome windows. There are styles and budgets to suit all projects; the PVC Raylux is a budget-friendly flat roof window. Velux flat glass roof windows are mid-range and offer high-end quality at a reasonable price.At the other end of the scale, you have the Atlas, EOS, Whitesales & Sunsquare flat glass rooflight windows which are the best of the best if that's what you're after
.